To make this list, the quarterback has to have played at least three seasons as a Cleveland Brown. Wins, yards, interceptions, rating, and playoff appearances were all taken into consideration.
1. Otto Graham
From the years 1946 to 1955 the Cleveland Browns appeared in the Championship game every single year. Otto Graham was the quarterback every single one of those seasons. He led the Browns to 7 Championships in those 10 years. There has never been a Brown to win more Championships than Mr. Graham. Though his career numbers are not as fancy as some modern day quarterbacks, you have to take in consideration he played in a run first league. There is also the fact that he played before the Super Bowl was founded, so sometimes his impact on football is often forgotten. Graham posted a professional winning record of 105-17-4. He surprisingly won a championship as a professional basketball player with the Rochester Royals (Sacramento Kings) as well. Graham could be considered one of greatest winners in sports history.
Passing yards: 23,584
Passing touchdowns: 174
Passing interceptions: 135
Rating: 86.6
Wins/losses: 107 (57 NFL)- 17 (13 NFL)- (1 tie NFL)
Championships/Super Bowls: 7 (1946, 47', 48', 49', 50', 54', 55' Cleveland Browns)
---
Sports Illustrated
Bernie
Kosar
is the most loved athlete in Cleveland sports history. Here is a guy who went to college at Miami , FL, then manipulated the college draft system so he could come back and play for his hometown team.
Kosar
, a local Ohio kid, led the Browns to five straight playoff appearances from 1985 to 1989. This included three Conference Championships, which were all lost in tragic fashion. Bernie performed brilliantly in two of the three contested games against the
Denver Broncos
. The Broncos had
John

Elway
and his brother luck on their side.
Kosar
was treated terribly by new coach Bill
Belichick
and eventually was cut in 1993. That same year,
Kosar
won his first Super Bowl ring with the Dallas Cowboys. Bernie signed with the team to fill in for an injured Troy
Aikman
. During the 1993 NFC Championship game,
Kosar
replaced an injured
Aikman
, leading the Cowboys to their second consecutive Super Bowl appearance. Though he never won a Super Bowl with Cleveland, he is still considered of one the greatest Browns quarterbacks.
"Bernie, Bernie...Super Bowl!"
NFL Career:
Passing yards: 23,301 (21,904 as a Brown)
Passing touchdowns: 124 (116 as a Brown)
Passing Interceptions: 87 ( 81 as a Brown)
Rating: 81.8 (81.6 as a Brown)
Wins/losses: 53-54 -1 tie) (53-51-1 tie as a Brown)
Championships/Super Bowls: 1 (with 1993 Dallas Cowboys)
---
I
Frank Ryan's numbers are not as flashy as some modern day quarterbacks but he was a winner. This was most likely because he was handing the ball off to a guy named
Jim Brown
. Ryan played for Cleveland from 1962 until 1968. He led the Browns to their last Championship in 1964. They also made the Championship the following year, only to lose to the Green Bay Packers. The next year 1966 the
Super Bowl
was created, an event no Browns team has ever experienced. Ryan's rating and Championship win put him third on my board.
NFL Career:
Passing yards: 16,042 (13,361 as a Brown)
Passing touchdowns: 149 (134 as a Brown)
Passing Interceptions: 111 ( 88 as a Brown)
Rating: 77.6 (81.4 as a Brown)
Wins/losses: 57-24 -3 (52-22-2 tie as a Brown)
Championships/Super Bowl: 1 (with 1964 Cleveland Browns)
---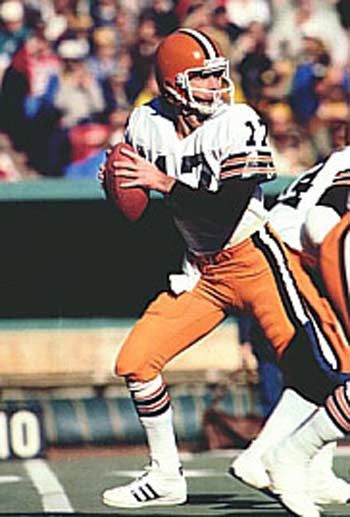 Brian
Sipe
played for the Browns his entire career, which lasted from 1974 to 1983. He was named to the Pro Bowl one time in 1980, the same year he led the Browns to his only playoff appearance. The Browns were called the
"

Kardiac

Kids"
that year and
Sipe
was a fan favorite. Unfortunately, he was also an inconsistent quarterback. He is still the Browns all-time passing yardage leader but threw almost as many interceptions as touchdowns. He threw three such interceptions in the 1980 divisional playoffs against the Raiders, in the infamous
"Red Right 88" game".
NFL Career:
Passing yards: 23,713
Passing touchdowns: 154
Passing interceptions: 149
Rating: 74.8
Wins/losses: 57-55-0
Championships/Super Bowls: 0
---
After the first four quarterbacks, there aren't many left to choose from. I debated between four players to place as my number five pick, Vinny Testaverde (awful), Milt Plum, Tim Couch (look at the stats), and Bill Nelson. I picked Nelson for a couple of reasons. In his five seasons with the Browns he posted a convincing winning record. He also led the Brownies to three playoff appearances in 1968, '69, and '71, two of which ('68 and '69), were conference championships. Nelson rounds out the top five NFL quarterbacks in Browns history.
Who's next?
NFL Career:
Passing yards: 14,165 (9,725 as a Brown)
Passing touchdowns: 98 (71 as a Brown)
Passing interceptions: 101 (71 as a Brown)
Rating: 70.2 (72.1 as a Brown)
Wins/losses: 40-31-3 (34-16-1 as a Brown)
Championships/Super Bowls: 0